Compact 3 - 6v high torque DC motor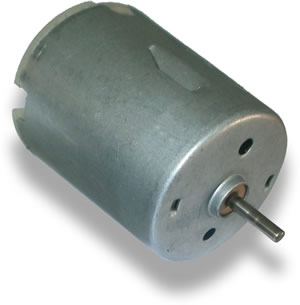 Specifications
Operating range
No load speed
No load current
Speed at max. efficiency
Current at max. efficiency
Output
Torque
Stall torque
Stall current
Dimensions
Spindle length


1.5 - 6.0 volts
9600 RPM ±10%
0.25 amps
7790 RPM
1.14 amp
1.58 watts
19.9 g-cm
110 g-cm min.
5.2 amps max
31 mm x 24 mm
10 mm x 2.0 mm dia

Description

A combination of compact size and high torque makes these DC motors ideal for a wide range of projects and applications.

The 2 mm spindle is fully compatible with all our range of 2 mm gears and pulleys. Connection is via 2 tags on the back of the DC motor and mounting is by 2 holes on the front of the motor.

The motor is RoHS compliant.